This post may contain affiliate links. Please see our disclosure policy for details.
NextGen Homeschool has another fabulous FREE GIVEAWAY for you this week as part of the Ultimate Homeschool Giveaway Link-Up! Click here to enter to win a Room to Grow Utility Bin from Thirty-One Gifts, a prize valued at $100 (includes shipping)!
Plus you can also enter all the giveaways on the Ultimate Homeschool Giveaway Link-Up listed at the bottom of our giveaway post, for a total of more than $1,000 in prizes to be awarded! Giveaway ends at midnight August 30, so don't miss you chance to get multiple entries into all the giveaways.
NextGen Homeschool's "What's Working Wednesday" Link-Up is a place for fellow homeschoolers to link up a post about anything you are using in your homeschool and household that is working well for you, such as a particular curriculum, teaching method, creative ideas, organizational approaches, technology tools, helpful books and blogs, balancing homeschool with life/work/personal, etc. Feel free to link up several posts that follow the "what's working" theme.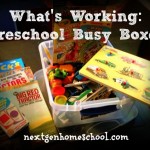 This week's What's Working post is from NextGen Homeschool Author Rosanna Ward, who shares what she learned from Rachael Carman's vlog on HisSunflower.com about how to keep younger children occupied while you work with their older siblings. Rosanna explains step-by-step how she set up four preschool busy boxes for her 3-year-old son and what happened when she used them for the first time this week.
We encourage you to visit the other sites by clicking on the links and reading all of the fantastic ideas and insights shared by other bloggers. Also don't forget to join the fun by adding your blog links. New to this link-up? Visit our guidelines here.
We request that if you join this link up, please add the "What's Working Wednesday" link-up button below to your post or blog sidebar so your readers can find us here.
We encourage you to visit at least one link-up post that catches your attention each week, and "like" any posts that you read and find particularly helpful. Thank you for joining us on this journey to discover "what's working" for other homeschoolers. We are hoping to learn a lot from you too!
The NextGen Homeschool Writing Team
If you missed last week's collection of practical and inspiring homeschooling posts, see last week's link-up.
Do you host a weekly homeschooling blog link-up?
Add your link-up to our Weekly Link-Ups page!
Thank you to ALL of our participating bloggers! Don't forget to subscribe to our FeedBlitz newsletter so that you will receive a copy of this week's "What's Working Weekly" top posts via email, as well as a FREE copy of "31 Days of Encouragement for the Homeschool Mom."