This post may contain affiliate links. Please see our disclosure policy for details.
One of the most common feelings expressed to me by other homeschooling moms is self-doubt. Am I doing enough? Am I doing it right? Am I organized enough? Am I doing too much? Am I getting through to my kids? Am I measuring up to other moms?
Notice a trend? The relentless "am I" questions are sure to wear you down quickly and steer your focus in the wrong direction. Soon comparison joins in, feeding the self-doubt and robbing you of the joy homeschooling can bring.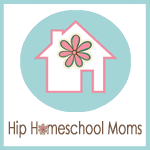 Click through to my guest post on Hip Homeschool Moms — "When in doubt, seek support!" — for the rest of my story and what I learned about the critical role God and others play in defeating self-doubt and finding support for homeschooling moms, bringing joy back to your homeschooling journey. You'll also find four steps to building the best support network for a homeschooling mama.
A "p.s." to my guest post:
My self-doubt was compounded by my unrealistic expectations and the self-applied pressure of pleasing others, and when those "failures" began to overwhelm me, they turned into physical anxiety and depression. If you've had any challenges in this area, I just want you to know that you're not alone! God wants to heal you and help you rebuild your trust in Him and others. It's my prayer that you reach out to Him first with all of your heart, and then seek the support you need in people you can trust. There is support for homeschooling moms out there, whether it is from a mentor, friend, family member, bible study or support group.
I would also recommend reading "One Thousand Gifts" by Ann Voskamp. It's an incredible personal journey that inspired me to recognize God's purpose in my pain, and encouraged me to press forward in rebuilding my bridge of trust in the Lord through "planks of thanks," as Ann describes it. Her gift-counting "joy dare" played a pivotal role in my recovery.
Have you struggled with self-doubt and comparison? Do you feel isolated at times in your homeschool journey? Where do you seek support? What holds you back? We'd love to hear from you in the comments section below!