This post may contain affiliate links. Please see our disclosure policy for details.
For my little family of five, travel is a family legacy: It's a priceless inheritance that's been passed on from one generation to the next. My husband's family history is filled with trailblazing spirit and adventurous exploration, and the many educational excursions he experienced growing up homeschooled by travel-loving parents played an important role in developing his love for learning. We knew wanted to pass along that on-the-road, hands-on educational travel experience to our three daughters, and what better way to do that than to include his parents in some our own journeys!
Join me over at Wordtraveling.com's "Vote for Travel" series, where I'm sharing my post about why I vote for multi-generational travel. After many years of family trips with my husband's parents, as well as the trips our daughters have taken with their grandparents without us, I've really come to cherish the multi-generational travel experience. It gives us a unique opportunity to step back into the past, learn even more alongside our children, and strengthen family bonds. See my complete post for more about why you should consider adding multi-generational travel to your family plans.
Make sure you click over to Wordtraveling.com and Cast your "Vote for Travel" by entering the awesome $1500 vacation giveaway to the incredible Beaches of Ft. Myers/ Sanibel and to read more posts from other bloggers and family travel experts in our third annual series!
No purchase or real voting necessary!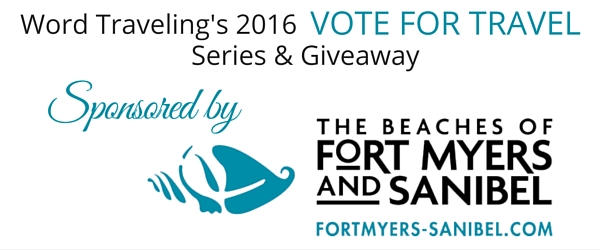 *Terms and prize details can be found at WordTraveling
Click the image below to read the rest of my post and ENTER TO WIN: